CAKE SMASH SESSIONS FOR BABIES TURNING ONE
Your baby is turning one, and its time to have some fun! Cake Smash Photoshoot is a great way to celebrate the most important birthday – the first one! 
While this is a session for babies turning one, you can have this session anytime between 09-12 months when your baby can sit unaided.
You can choose to have the pre birthday photoshoot at our large photo studio or your home. We have a beautiful garden/outdoor space at the studio which works amazingly for outdoor portraits.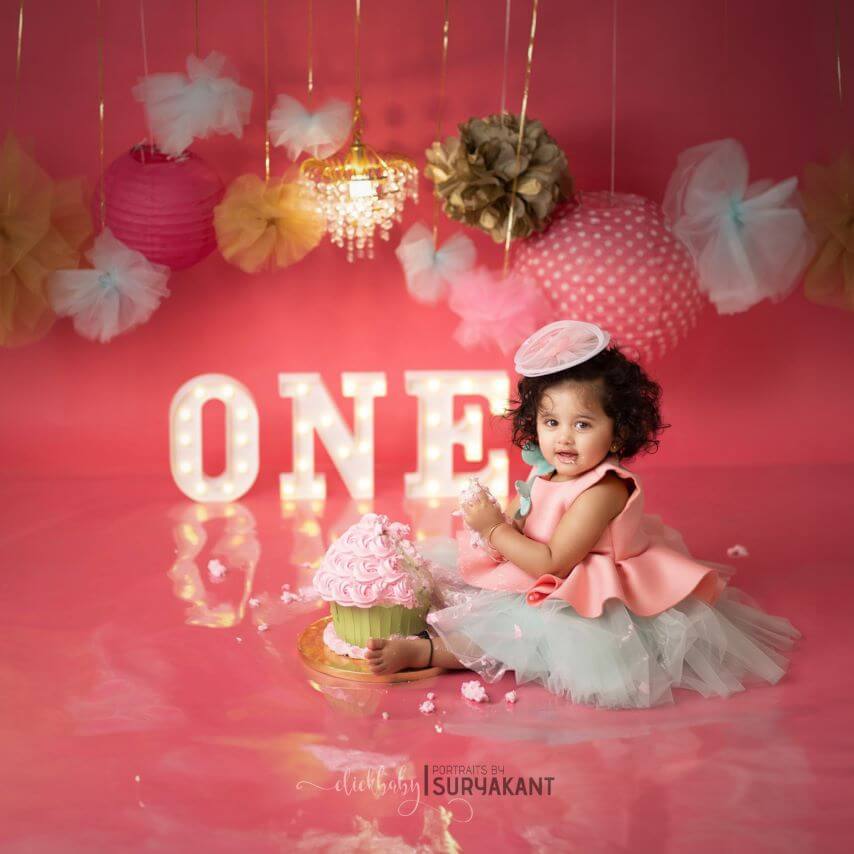 Pre Birthday photoshoots are generally split into two parts so that your gallery is not full of images of a messy little one. The first part is where I style the session with a beautiful selection of high-end custom handmade props. I use ultra-soft fabrics and knits, natural tones, and textures. Only the very BEST for your child. We also make some beautiful images of the baby with the family. Then we set up the scene for a cake smash.
You can choose to have the shoot at your home or our large photo studio(indoor+outdoor) at Hyderabad. Sessions are from 2-4 hours, with ample time for feeding, setup changes, and cuddles. We have a nice garden at the studio which works wonderfully well for outdoor portraits.
If you want to display these photos or videos at an upcoming birthday party, I recommend scheduling your cake smash session about a week or two ahead of time. I suggest parents buy their cake, but you can order with us too.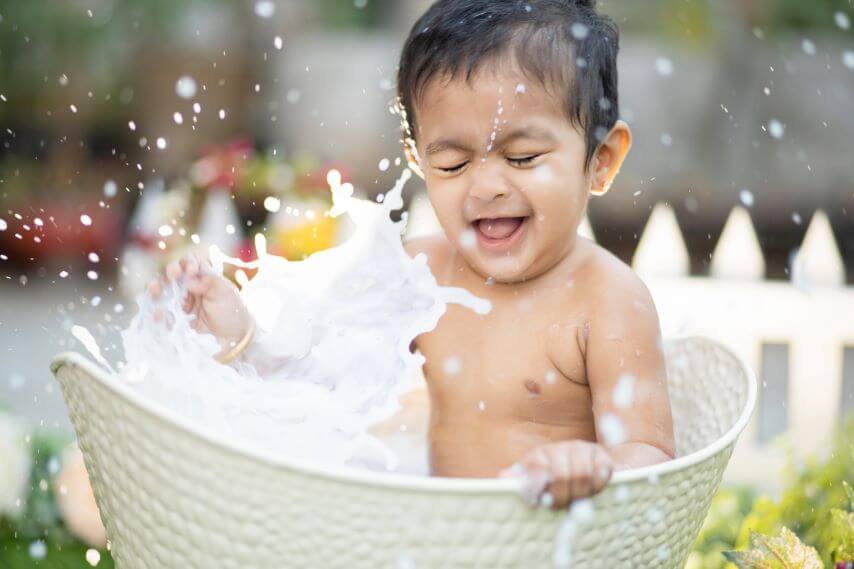 We have a variety of packages and collections for Pre Birthday Photoshoots. 
Our STUDIO Pre Birthday Photoshoot packages start from INR 20,000 and our HOME Pre Birthday Photoshoot packages start from INR 35,000. All the cake smash packages include indoor and outdoor portraits with a variety of unique themes and props.

You also get awesome discounts if you book Birthday party event coverage along with the cake smash photo session.
You can ask for pricing below to receive complete details on your email in 5 minutes.

PHOTOS & VIDEOS FOR ALL KINDS OF BABY EVENTS
Your munchkin is ready to cross a milestone, and it's time to party!
We make fantastic candid and conventional images for Birthday Parties. We also make amazing candid cinematic videos.
Clickbaby Birthday Photography Team was recently featured amongst the TOP TEN BEST BIRTHDAY PHOTOGRAPHERS in India by Asia's leading album maker CANVERA.
At Clickbaby, safety is our priority at all times, especially during flu season and during this COVID-19 epidemic. Because we work closely with vulnerable clients including newborns, small children, and pregnant women, we would like you to know that we are not taking the current Coronavirus outbreak in Telangana lightly. There is absolutely nothing more important to us than the health and safety of our clients.
We are sure you have concerns about remaining safe and healthy at this time, too. We would like to share the current steps we are taking to ensure the studio environment remains safe and clean for your portrait session.
The studio is deep cleaned before and after every session, prior to new clients arriving. All fabrics and wraps are washed or sanitised after use.
You can fill up the contact form below and you will receive the pricing details in your email inbox within 5 minutes.
In case of urgent requirements, please feel free to call me at +91.905.278.4000.
FINANCIAL DISCTRICT
HYDERABAD
+91.905.278.4000  |  
sk@clickbaby.in