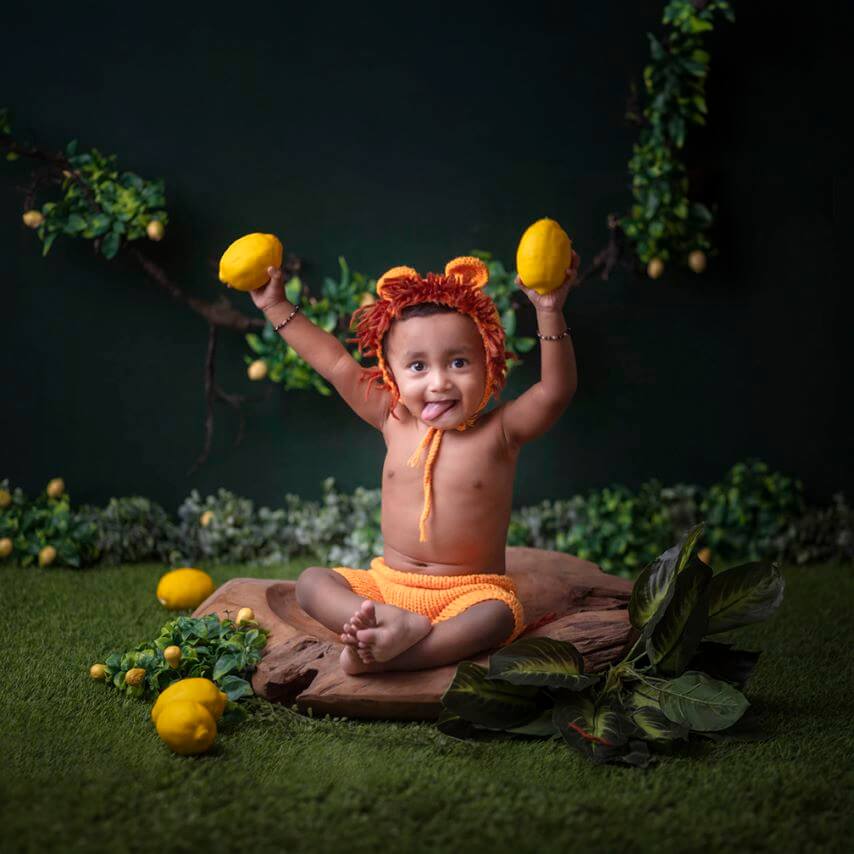 A Roaring Pre-Birthday Photoshoot for Himanshu
In this heartwarming Lion-King-Theme photo session, we had the privilege of capturing the love and joy between two adorable siblings, Himanshu and Hamsini. Himanshu was turning one and his pre-birthday photoshoot was a delightful experience filled with laughter, love, and a touch of the wild.
Sibling Love in Focus
The bond between siblings is unique and beautiful, and it was clear from the start that Himanshu and Hamsini truly cared for each other. Their love shone through in every photograph. As photographers, we were happy to capture these heartwarming moments, creating a visual story of their affection for each other and their parents.
Capturing Family Bonds
While Himanshu and Hamsini were the stars of the day, we couldn't forget about the loving parents who were an integral part of this pre-birthday celebration. Family portraits are an essential part of these sessions, as they freeze moments of togetherness and love that parents will cherish for a lifetime.
The candid family portraits captured the genuine joy and connection between the parents and their little ones. These photographs serve as a timeless reminder of the love that surrounds Himanshu and Hamsini as they grow up.
The Cake Smash Delight
No pre-birthday photoshoot is complete without the iconic cake smash session, and Himanshu's sugarless cake provided the perfect canvas for some messy, cake-filled fun. Cake smash photography has become a delightful tradition, and it's not just about capturing adorable photos of the baby covered in cake but also managing the cake itself.
Himanshu wholeheartedly embraced the cake-smashing adventure, and his infectious laughter filled the room as he explored the texture and taste of the cake. It was a messy, delightful, and truly unforgettable experience that left everyone in fits of laughter.
And what follows a cake smash session? A soothing bath, of course! After the cake-smashing fun, Himanshu enjoyed a relaxing bath, giggling and splashing in the water. It was a perfect way to clean up and end the cake-smashing adventure on a refreshing note.
A Little Simba Adventure
For this pre-birthday photoshoot, the mother had a theme in mind: Little Simba from the beloved Disney classic, "The Lion King". With creativity and dedication, we brought this dream to life, setting up a magical backdrop that transported Himanshu and Hamsini into the enchanting world of the Pride Lands. Himanshu's excitement was evident as they explored the jungle-themed setup, complete with a lot of greenery and playful props.
To enhance the Lion King experience, we carefully selected and edited a cinematic video featuring a beautiful and unique Lion King song. This added a touch of cinematic splendor to the entire photoshoot, making it an unforgettable experience for the little ones and their family.
Preserving Precious Moments
In conclusion, Himanshu and Hamsini's pre-birthday photoshoot was a magical celebration of love and family. It showcased the beautiful bond between siblings, the creativity of a dream theme brought to life, the joy of a cake smash adventure, and the warmth of family bonds. These moments, frozen in time through the art of photography, will be treasured for generations to come.
If you're considering a pre-birthday photoshoot, we invite you to explore the magic of capturing these precious moments. Whether it's a cake smash session, a themed adventure, or simply a day of laughter and love, we are here to turn your vision into a reality.
Get in touch to discuss your ideas and start capturing the love and joy of your family. Let's work together to create memories that will last forever.
You can fill up the contact form below and you will receive the pricing details in your email inbox in 2 minutes. In case of urgent requirements, please feel free to Whatsapp or call me at +91.905.278.4000.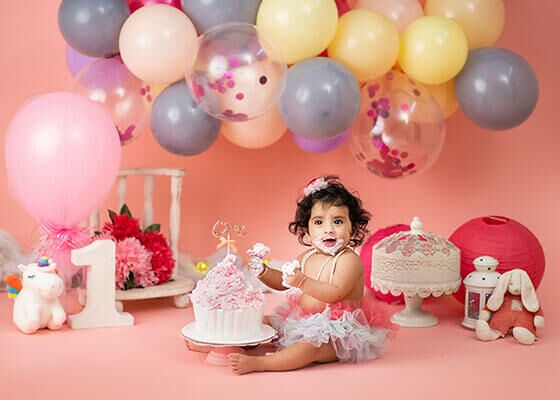 Pre Birthday Photoshoot at Hyderabad
We specialise in creating heartwarming pre-birthday photoshoots that beautifully capture the essence of this magical time. We make breathtaking photos and captivating cinematic videos that you will cherish for years to come.
We are adept at crafting personalised setups that reflect your child's personality and your unique vision. From soft pastels to vibrant themes, we curate every detail to ensure your child shines in their own special way.
FINANCIAL DISCTRICT
HYDERABAD
+91.905.278.4000 |
sk@clickbaby.in