elegant pregnancy photoshoot for moms-to-be
Images from a maternity photo shoot help you remember more vividly this awesome and equally weird time in your life. I can assure you that when your children are a little older, they will be delighted to see the photos of their pregnant mamma, while they were growing inside of you.
TIMING – A pregnancy photoshoot works the best when you are about 30-35 weeks or 7-8 months along. This way your belly will be more noticeably round but not too heavy so that you may experience any sort of discomfort.
LOCATION – You can choose to have the shoot at our large photo studio (Indoor + Outdoor), your home, or any location in Hyderabad. At the studio, we create a few images inside and a few images outside. We have a nice garden at our studio which works well for pregnancy photo sessions.
WHAT TO WEAR – We provide an exquisite selection of Maternity Gowns and Drapes for those classic maternity poses with drapes flying around. We also provide a variety of props, backgrounds, and lighting for the studio as well as outdoor sessions.
COMFORT – At the photo shoot, your comfort is given utmost importance while making stunning maternity portraits. My goal is to make sure you are relaxed and feel beautiful, and confident.
Combining your maternity and newborn photography sessions is also a wonderful idea. During your maternity session, we will interact and get to know each other, and we will build a relationship. A relationship that will help us create a comfortable and familiar environment for the newborn photoshoot. We have a variety of Combo packages available. Talk to us to know more.
We have a variety of packages and collections for Maternity Photoshoots. 
Our STUDIO packages start from INR 20,000 and our HOME packages start from INR 35,000. These packages include Maternity Dresses, Indoor and Outdoor Location and a variety of Props and Setups.

You can ask for pricing below to receive complete details on your email in 2 minutes.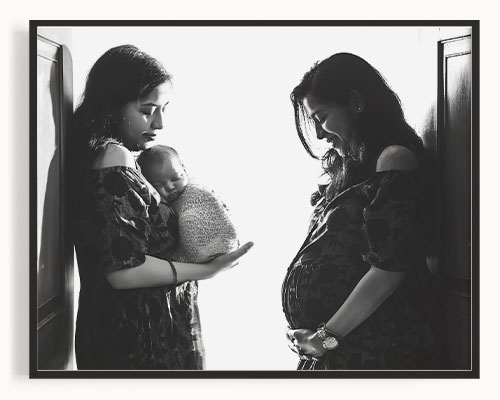 Bump to Baby Photo Sessions
With a bump to baby session you can capture the joy and love of your pregnancy with a series of beautiful and memorable photographs and then continue the story with a newborn photography session.
Your Maternity 'Bump' Photo Shoot Session takes place at around 32-36 weeks of your pregnancy and your Newborn Baby Photo Session takes place within the first three weeks of baby birth. These sessions can include "growing up" photo sessions too.
Talk to us to know more…
At Clickbaby, safety is our priority at all times, especially during flu season and during this COVID-19 epidemic. Because we work closely with vulnerable clients including newborns, small children, and pregnant women, we would like you to know that we are not taking the current Coronavirus outbreak in Telangana lightly. There is absolutely nothing more important to us than the health and safety of our clients.
We are sure you have concerns about remaining safe and healthy at this time, too. We would like to share the current steps we are taking to ensure the studio environment remains safe and clean for your portrait session.
Until further notice: We will only be scheduling ONE studio session per week, to ensure ample time for thorough sanitization and cleaning between clients.
The studio is deep cleaned before AND after every session, prior to new clients arriving. All fabrics, wraps, or clothing is washed or sanitized and then left isolated for 48 hours prior to use is the session.
You can fill up the contact form below and you will receive the pricing details in your email inbox within 5 minutes. 
In case of urgent requirements, please feel free to call me at +91.905.278.4000.
FINANCIAL DISCTRICT
HYDERABAD
+91.905.278.4000  |  
sk@clickbaby.in