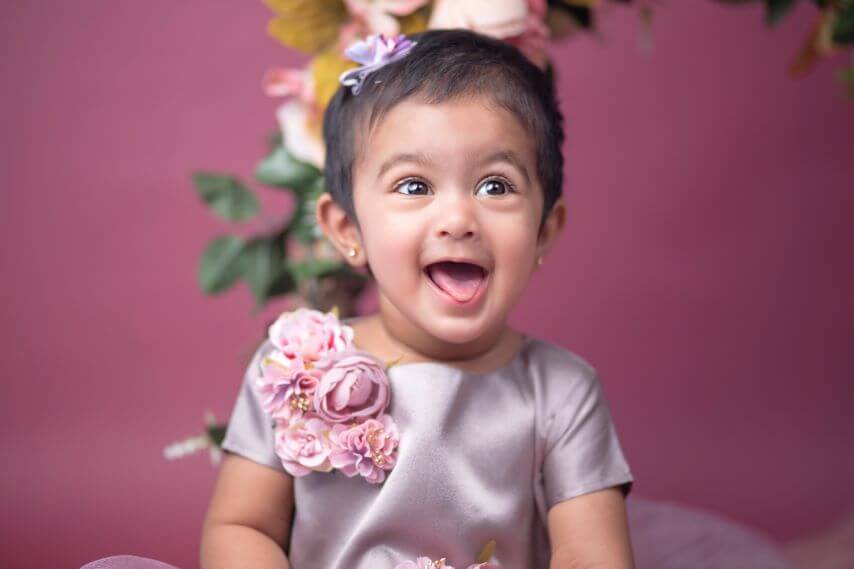 Little Anya's Pre Birthday Photoshoot in Guntur
Little Anya's pre birthday photoshoot led us to the charming city of Guntur, where we travelled from Hyderabad with our array of beautiful props and setups.
The Clickbaby team eagerly travels to towns and smaller cities like Guntur and Vijayawada. Our goal is to ensure that families in smaller cities and towns have access to top-notch baby photography services. We're excited to bring our cake smash photography services to places with scarce options. Your location shouldn't limit your ability to capture beautiful memories for your little ones. You will be delighted to know that pricing for our outstation services is the same as in Hyderabad. Just the taxi fare is extra.
The Guntur session was full of joy and memorable moments. Anya's mother provided unwavering support while her grandma's creative energy brought endless ideas. Grandma even made some props herself, adding a personal and heartwarming touch to the ice cream cake smash theme.
Amidst the fun and excitement, we also worked hard on making a fantastic cinematic video, that left Anya's family thoroughly delighted.
The session took place in the comfort of their own home and we also went to their terrace for some beautiful outdoor portraits. Our aim was to use the space well and make it look gorgeous for the baby girl's pre-birthday celebration.
We were privileged to be a part of this enchanting chapter in Anya and her family's life. And we're excited to offer the same experience to families across different locations like Guntur, Vijayawada, Warangal, Karimnagar, Nizamabad, Adilabad, Nanded, Kalaburagi etc…
If you want to capture your child's special moments, whether in your hometown or beyond, we're here to make it a reality. Reach out to us today, and together, let's capture memories together that you will cherish for a long time.
You can fill up the contact form below and you will receive the pricing details in your email inbox in 2 minutes. In case of urgent requirements, please feel free to Whatsapp or call me at +91.905.278.4000.
Pre Birthday Photoshoot at Hyderabad
We specialise in creating heartwarming pre-birthday photoshoots that beautifully capture the essence of this magical time. We make breathtaking photos and captivating cinematic videos that you will cherish for years to come.
We are adept at crafting personalised setups that reflect your child's personality and your unique vision. From soft pastels to vibrant themes, we curate every detail to ensure your child shines in their own special way.
FINANCIAL DISCTRICT
HYDERABAD
+91.905.278.4000 |
sk@clickbaby.in