A Magical Pre Birthday Photoshoot for Baby Myra
I had the happiest time capturing adorable Baby Myra's pre birthday photoshoot. Excitement filled the air as her parents, Shashank and Chandana, trusted me to capture this special moment in their little one's life.
I eagerly listened to Chandana's ideas for the photoshoot. She had a clear picture in mind for the cake smash photoshoot theme – subtle lighted colours, a touch of gold shimmer, a preference for tulle material, and a desire to avoid gaudy colour combinations. We took her ideas and tried our best to turn them into wonderful setups.
Every family is unique, and as a photographer, I understand how important it is to match your wishes. A baby photoshoot should reflect the little one's personality, creating memories that stay with you forever.
The real magic of a personalised photoshoot is capturing real feelings and joy. Shashank, Chandana, and Myra shared moments of laughter and love, making these photos really special.
For Myra, we went beyond photos and created a special video capturing the magic of the little one's happiness. When Myra's birthday came, the family watched the video and felt all the emotions of their special journey. The audience loved it too.
During the session, we made sure Myra felt safe and comfortable. We played with her gently to capture her beautiful smile and carefree expressions that come naturally to kids.
As a photographer who loves babies, I'm proud to give them space to be themselves. Understanding a child's mood and creating a comfortable environment is key.
Myra's joyful expressions and playful nature stood out in every photo.
I invite you to create your own memories. Your child's milestones are precious, and we at Clickbaby Photography are here to capture these moments with care and creativity. From pre birthday celebration to cake smash excitement, we'll weave your story into timeless memories. Also checkout our page on baby girl cake smash ideas for more inspiration.
Get in touch to discuss your ideas and start capturing the love and joy of your family. Let's work together to create memories that will last forever.
You can fill up the contact form below and you will receive the pricing details in your email inbox in 2 minutes. In case of urgent requirements, please feel free to Whatsapp or call me at +91.905.278.4000.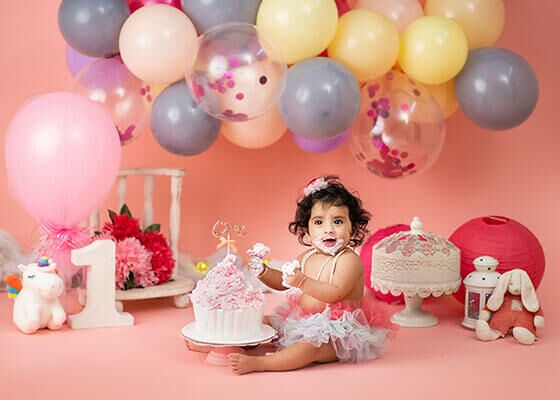 Pre Birthday Photoshoot at Hyderabad
We specialise in creating heartwarming pre-birthday photoshoots that beautifully capture the essence of this magical time. We make breathtaking photos and captivating cinematic videos that you will cherish for years to come.
We are adept at crafting personalised setups that reflect your child's personality and your unique vision. From soft pastels to vibrant themes, we curate every detail to ensure your child shines in their own special way.
FINANCIAL DISCTRICT
HYDERABAD
+91.905.278.4000 |
sk@clickbaby.in